Enhance Your Quality of Life with MS Support
Living with Multiple Sclerosis (MS) presents unique challenges that require specialized care and support. We provide compassionate, tailored MS care services in Solihull, designed to help manage symptoms, promote independence, and ensure a safe and comfortable living environment.
What Is Multiple Sclerosis?
Multiple sclerosis is a condition that can affect the brain and spinal cord, causing a wide range of potential symptoms, including problems with vision, arm or leg movement, sensation, or balance. It's a lifelong condition that can sometimes cause serious disability, although it can occasionally be mild. It's about more common in women than men.
In many cases, it's possible to treat symptoms. Average life expectancy is slightly reduced for people with MS. It's most commonly diagnosed in people in their 20s, 30s and 40s, although it can develop at any age.
Depending on the type of MS you have, your symptoms may come and go in phases or get steadily worse over time. The symptoms of MS vary widely from person to person and can affect any part of the body.
The main symptoms include:
Fatigue
Difficulty walking
Vision problems, such as blurred vision
Problems controlling the bladder.
Numbness or tingling in various parts of the body
Muscle stiffness and spasms
Problems with balance and coordination
Problems with thinking, learning, and planning
MS is an autoimmune condition. This is when something goes wrong with the immune system, and it mistakenly attacks a healthy part of the body – in this case, the brain or spinal cord of the nervous system.
In MS, the immune system attacks the layer that surrounds and protects the nerves called the Myelin Sheath. This damages and scars the sheath and potentially the underlying nerves, meaning that messages travelling along the nerves become slowed or disrupted.
Managing Your MS Symptoms In The Comfort Of Your Home
There's currently no cure for MS, but a few treatments can help control the condition and ease symptoms. The treatment you need will depend on the specific symptoms and difficulties you have.
Unfortunately, there's currently no treatment that can slow the progress of inactive progressive MS, with no relapses or MRI activity. Many therapies aiming to treat progressive MS are currently being researched.
MS can be a challenging condition to live with so, it's important to take care of your general health. At A Star Care Services, we provide specialist Multiple Sclerosis home care.
We know that staying at home and receiving one-to-one care from a highly trained and compassionate carer significantly improves the quality of life for those with MS. We will assess your needs, create a care, and support plan to accommodate you and your loved ones.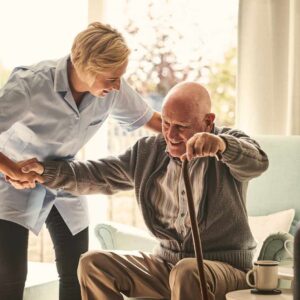 Unlike residential care which follows a generalised care routine, our live in MS care services offer a tailored approach to care allowing you to maintain a level of independence and autonomy in a familiar and comfortable environment. See what makes our services different.
Our caregivers are trained and experienced in MS care. They understand the condition's complexities, symptoms, and progression, ensuring that your loved one receives the best care tailored to their specific needs.
We believe in delivering care that revolves around your individual needs and preferences. Your care plan is tailored to your specific requirements.
Our MS live-in care can be a cost-effective alternative to residential care facilities. You receive dedicated, one-on-one care without the additional costs associated with institutional care.
Whether you need occasional assistance or round-the-clock care, we can accommodate your schedule and adjust as your needs change.
What's Included In Our Live In MS Care Services?
At A Star Care, we understand that each person's experience with multiple sclerosis is different. Our team of experienced professionals works closely with you to create a personalized live-in MS care plan that addresses your specific needs, challenges and special requests. If you require, we may also recommend home modifications that can make your living spaces safer and more accessible.
See what's included in our Solihull multiple sclerosis care at home solutions:
Symptom Management
MS symptoms can vary widely and may include mobility issues, fatigue, pain, and cognitive changes. Our live in MS caregivers are trained to provide specialised care to manage these symptoms effectively.
Mobility Support
Our live in MS caregivers assist with mobility and daily living activities, ensuring you can move safely and comfortably around your home.
Medication Management
Our live in MS caregivers can help with medication reminders, ensuring you stay on top of your prescribed treatments.
Emotional Support & Companionship
Coping with a chronic condition like MS can be emotionally challenging. Our compassionate caregivers are there to provide emotional support and companionship.
Nutritional Support
Proper nutrition is essential for managing MS symptoms. Our live in MS caregivers in Solihull can assist with meal planning, preparation, and feeding if necessary.
Transportation
If you have appointments, want to participate in social activities or simply go shopping, our live in MS caregivers in Solihull will provide you with transportation assistance.
Respite Care
Caregivers need a break too. Our respite care services allow family caregivers to rest and recharge while knowing their loved one is in capable hands.
How Our MS Care Service Works
Call our team today on 0121 628 9790 to talk through your options and for more information on what it all means.
2. Discuss your requirements
Our team at A Star Care Services will discuss your requirements and how the Home Care Service will run. 
Our care experts will create a tailored Home Care Package that'll ensure you have the right care and support that fits your life.
Looking For Live In MS Care Services In Solihull?
Our MS live-in care is ready to provide specialised support and compassionate care that you or your loved ones living with multiple sclerosis deserve. Let's get started.
FAQ's About Our MS Live-In Care Services In Solihull