We at A Star Care Services are a Birmingham-based company that offers Home Care Services in the nearby areas of Shirley, Northfield, Edgbaston, Solihull, and Henley-in-Arden. We are aware that selecting the best home care agency in Birmingham for you or a loved one is a big decision when you're seeking home care in Birmingham. We are here to help you with that selection.
Our purpose is to improve the lives of our clients by offering individualised care that fosters independence, dignity, and peace of mind. With the help of our amazing team of committed experts, we offer high-quality home care in Birmingham and the surrounding areas.
What Is Included In Our Home Care In Birmingham Service?
With our Home Care in Birmingham, we at A Star Care are committed to providing quality care that goes above and beyond expectations. Our dedication to professionalism, compassion, and dependability distinguishes us as a top provider of home care in Birmingham and Solihull. Allow us to be your dependable partner in giving you or a loved one the assistance and care you require.
At A Star Care, we take pride in ensuring that our clients and their families receive the finest standards of care while offering a variety of home care in Birmingham services. The list below summarises our home care service, but we also offer clients individualised care plans, so get in touch with us to learn more about what we provide and how we can assist!
What You Get When Receiving Our Professional Home Care Company
Every person has particular wants and preferences. We take the time to get to know each of our clients in order to create individualised care programmes that take into account their unique needs with Home Care in Birmingham. Our committed carers are available to assist with daily tasks, medication administration, or specialised care for a medical condition.
When it comes to providing care for people in the convenience of their own homes, experience counts. Our team is made up of professionals with a high level of training and expertise who have provided comprehensive home care in Birmingham for a variety of needs. Given that we have a complete awareness of the potential problems, we can offer specialist solutions.
Companionship & Emotional Support
Home care in Birmingham extends beyond just offering physical help. Our caring carers encourage social interaction and mental health by providing companionship and emotional support. We think it's important to have happy, fulfilled lives, and our carers are dedicated to helping our clients develop deep relationships with one another.
Peace Of Mind For Families
When a family member needs help, we are aware of the worries and obligations that arise. You may rest easy knowing that your loved one is in good hands by selecting our expert Home Care in Birmingham services. We keep you informed about the growth and well-being of your loved one through frequent communication and updates.
What Is Home Care And How Does it Support Clients?
Our Home Care in Birmingham offers a wide range of services that may be obtained in the comfort of one's home. It is meant to aid anyone who may need help with daily tasks, is recuperating after an illness or surgery, is taking care of a chronic condition, or require specialised care. Home care in Birmingham allows individuals to receive the assistance they need while preserving their dignity, independence, and standard of living.
Home care services can be quite advantageous for your loved one in a number of ways, including: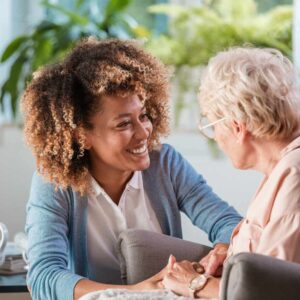 Medication Management: Your loved one can receive adequate drug management assistance from home care providers. They maintain a safe and effective pharmaceutical regimen by making sure medications are taken as directed, keeping an eye out for any possible adverse effects, and working with other healthcare specialists.
Companionship and Emotional Support: An individual's well-being can be significantly impacted by loneliness and social isolation. By having deep talks, doing activities together, and fostering a sense of connection and camaraderie, home care workers provide companionship and emotional support.
Meal Planning and Nutrition: To maintain total health and well-being, one must eat healthily. To help your loved one maintain a healthy diet, home care providers can help with meal planning, grocery shopping, and meal preparation. They can support healthy eating practices while accommodating dietary preferences and limits.
Respite for Family Caregivers: For family carers who might require a break or some time for self-care, our Home Care in Birmingham service can offer much-needed respite. The stress and hardship of providing around-the-clock care can be lessened when you know your loved one is in experienced hands.
Enhanced Safety: The ability to recognise and reduce potential safety threats in the home setting is a skill that home care providers have. They can suggest home changes or equipment that can improve safety and mobility, guarantee the use of assistive devices, and aid in the prevention of falls.
Promote comfort: Home care providers create customised care plans based on your loved one's unique needs and preferences. This guarantees that individuals get specialised help that meets their specific needs and encourages comfort, wellbeing, and independence.
Support with Daily Activities: Our home care in Birmingham specialists can help with movement and other activities of daily living like bathing, dressing, grooming, and urinating. With this assistance, your loved one may take care of their personal hygiene and carry out necessary duties with grace and ease.
How Our Home Care Can Help...
Ensuring that they are taken as prescribed and on time
This includes help with dressing, grooming, bathing, and maintaining personal hygiene
Helping to plan and prepare wholesome meals
Having deep discussions and offering emotional support
Assisting with simple domestic tasks and keeping the space tidy
Transporting customers to appointments, going on social outings with them, and conducting errands
Providing short-term assistance to family carers so they may rest and refuel
How Our Home Care Service Works
Call our team today on 0121 628 9790 to talk through your options and for more information on what it all means.
2. Discuss your requirements
Our team at A Star Care Services will discuss your requirements and how the Dementia Care Service will run. 
Our care experts will create a tailored Dementia Care Package that'll ensure you have the right care and support that fits your life.
To arrange a consultation and find out more about our customised Home Care in Birmingham service, get in touch with us right now.
We can improve your life or the life of a loved one by working together.